We all take extra special care when it comes to babies. After all, these cute little people cannot fend for themselves and thus rely on us to do the very best for them.
After six months, it is possible to use a dishwasher to give baby bottles a thorough clean. This scenario is a blessing because looking after a baby is already hard work without having to handwash everything.
The best dishwasher basket for baby bottles will ensure that all bottles are cleaned thoroughly and nothing gets lost in the dishwasher filter.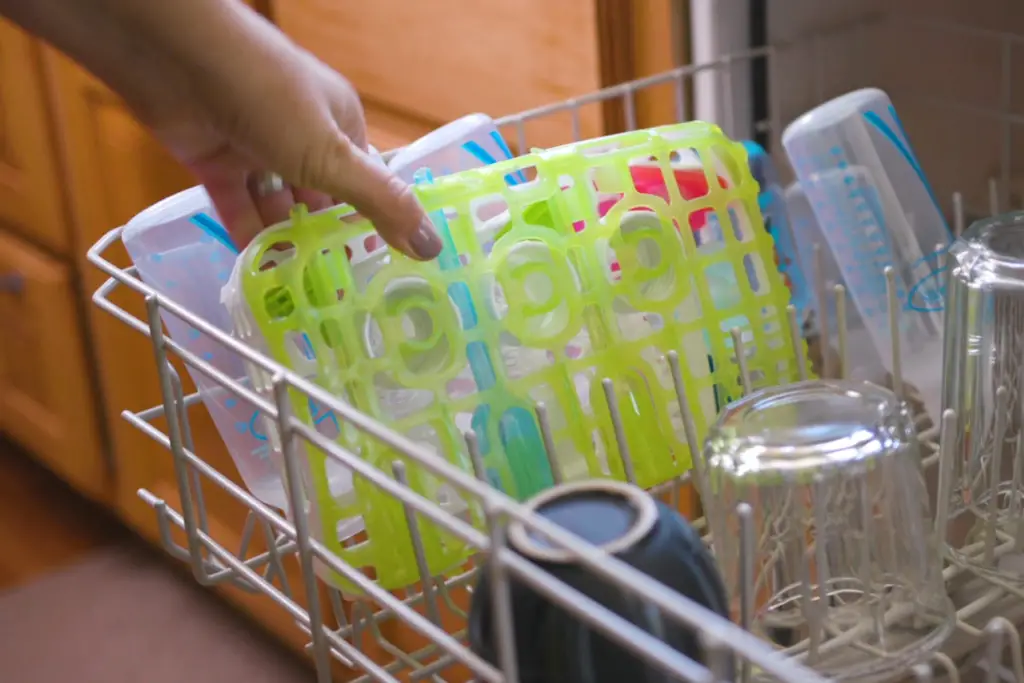 There are many basket types to choose from, so we have attempted to narrow down the options with this article.
List Of Dishwasher Basket for Baby Bottles
Comparison Chart of top 10 Dishwasher Basket for Baby Bottles
IMAGE
PRODUCT
 price

our Top Pick

Appliance Pros AP-UDCB01

Compartments: 8
Dimensions: 9.45×5.5×4.7 inches
Suitable for: Universal dishwasher basket
Lid: 1 Compartment

Munchkin Baby Bottle & Small Parts Cleaning Set

Usage: Top rack only
Dimensions: 8.5x6x5 inches
Weight: 8 ounces
Includes: Straw rack and pacifier holder

OXO Tot Dishwasher Basket

Compartments: 8
Dimensions: 9.45×5.5×4.7 inches
Suitable for: Universal dishwasher basket
Lid: 1 Compartment

Prince Lionheart Dishwasher Basket

Material: 100% Recycled Plastic
Dimensions: 1.82×3.74×3.79 inches
Weight: 9.5 ounces
Usage: Top rack only

Boom Dishwasher Basket Clutch

Dimensions: 10×4.5×4.5 inches
Weight: 5.6 ounces
Holds up to 6 large or 14 small nipples
Material: BPA and PVC free

Dr. Brown's Silicone Dishwasher Bag

Material: 100% Silicone
Usage: Top Rack Only
Dimensions: 1.8×5.1×7.5 inches
Weight: 7.2 ounces

Prince Lionheart Complete Dishwasher Basket System

Material: 100% Recycled Plastic
Usage: Top Rack Safe
Dimensions: 9.8×8.5×2.7 inches
Item Weight: 0.8 ounces

Dr. Brown's Options Dishwasher Basket

Material: BPA-free Plastic
Dimensions: 9.8×2.8×6.3 inches
Weight: 7.1 ounces
Capacity: 3 sets of bottles

Munchkin Deluxe Dishwasher Basket

Material: BPA-free Plastic
Capacity: 4 straws and 14 standard nipples
Dimensions: 8.5×4.25×3.94 inches
Weight: 4.8 ounces

Munchkin High Capacity Dishwasher Basket

Material: BPA-free Plastic
Dimensions: 8.4×4.7×4.4 inches
Usage: Top Rack Only
Weight: 5.6 ounces
5 Best Dishwasher Baskets for Baby Bottles Reviews
1. Appliance Pros AP-UDCB01
The Appliance Pros AP-UDCB01 is a more standard dishwasher basket than anything else we will look at today, meaning it can help clean baby bottles and perform other functions when baby bottles aren't being loaded up.
With eight large compartments, there is certainly plenty of room to place the bottles, nipples, and other parts within the confines of the basket.
Should the bottles come with any tiny, easy-to-lose parts, then you can place them into the one compartment that comes with a lid. This lid will prevent anything from being dislodged from the basket due to the pressure of the waterjets within the dishwasher itself.
Eliminating the chance of bacteria growth is essential when considering any item that helps with cleaning baby bottles. The grid design of this basket allows for ample ventilation and thus aids the quick drying of anything within it, reducing the chance of harmful germs causing problems.
Finally, this basket can be used with almost every dishwasher brand on the planet. That's extra convenient.
Highlighted Features
Durable basket for long term use
Basket design aids good hygienic cleaning practices
Room for many bottles at once
2. Munchkin Baby Bottle & Small Parts Cleaning Set
This Munchkin cleaning set comes with a baby bottle basket and a bristle brush for giving the bottles a scrub before they go into the dishwasher.
While the brush needs replacing after a recommended 45-days in order to maintain sanitary cleaning practices, the basket itself has been built to last, and you will get outstanding usage from it.
As this basket has been built specifically for bottles, it has features that make it easier to accommodate bottles of all sizes. Additionally, there are spaces to keep straws and pacifiers so that they get a great clean.
The lower basket will hold all those parts that you don't want to lose inside the dishwasher, and when you have nipples to wash, you don't even need to open the basket. These can just be slid into place after giving them a little squeeze.
You'll notice from the design that this basket has been built to stay sturdy and will keep upright during a dishwasher cycle. Your bottles will come out spotlessly.
Highlighted Features
Large capacity, suitable for many bottles
Multiple compartments allow you to separate items
Cleaning brush and rubber cleaning nipple have suction cups to stand upright
3. OXO Tot Dishwasher Basket
OXO Tot has created a dishwasher basket that allows you to organize the different parts of a baby bottle very nicely within it.
Whether you are washing baby bottles with nipples or bottles that come with straws, there is a section for each available.
This basket is beautifully balanced, thanks to the symmetrical door openings. The balance allows you to load the basket up while it is on the countertop without any fear that it will topple over and send baby bottle parts all over the kitchen floor.
In total, there is enough space on the doors for washing up to eight feeding nipples at a time. For straws, there is an extra part of the basket that can flip down to accommodate around four straws in total.
The size of the basket overall means that you can load it to full capacity, and there will still be enough space between each item to ensure a proper wash.
Most dishwashers will have enough space to accommodate one of these baskets. However, if you are lucky, you may find your dishwasher can take two at a time.
Highlighted Features
Holds up to 8 baby bottle nipples at once
Fantastic design to allow air to circulate and dry all items
Made from non-toxic BPA-free materials
4. Prince Lionheart Dishwasher Basket
Prince Lionheart isn't just giving you one basket, but two baskets when you buy from them. The deal you're getting includes both an infant dishwasher basket and a toddler dishwasher basket.
Made from non-toxic, 100% recycled plastics, the infant basket will accommodate all those small parts such as valves and nipples, with clear segmented sections provided just for this purpose.
The toddler basket is suitable for placing larger items that also require a thorough hot wash in the dishwasher.
When washing, you'll notice that the design of the infant basket sees those smaller parts and nipples placed at the bottom. This placement is so that they will be close to the jets of water the dishwasher sprays, ensuring that each vital item is getting the best wash possible.
You'll also find getting two baskets together especially useful if the nipples you use are too big to fit in the infant basket. You won't need a replacement basket because the toddler basket can hold these perfectly.
Highlighted Features
Infant basket design ensures small parts get a great clean
Product made from recycled materials but is durable
Designed to fit most dishwasher brands
5. Boon Dishwasher Basket Clutch
The final basket we are looking at comes from Boon and can hold the parts of a total of 8 baby bottles during a wash cycle. This total space includes having enough room for six large feeding nipples or 14 smaller nipples.
You'll find that the Boon Clutch has been designed in a way that the nipples simply pop securely into place, being kept in the optimal position for a good wash.
Additionally, items other than nipples can be stored within the Clutch during a wash, with everything getting good attention from the dishwasher jets thanks to the Clutch's excellent design.
Once out of the dishwasher, the Boom Clutch can sit neatly on a countertop with no chance of toppling over thanks to its clamshell design. Not only is this design great for protecting the baby bottle parts, but it also looks much more pleasing than the other square baskets we've been looking at.
Finally, this basket is really easy to close up, as it doesn't come with lots of doors that need clipping together. Simply bring the Clutch together, and it will lock, ready for entering the dishwasher.
Highlighted Features
Unique clamshell design
Room for the parts of up to 8 bottles
Made from BPA-free materials
Dishwasher Basket for Baby Bottles Buying Guide
Any equipment and accessories you use with a baby needs special care and attention. The best dishwasher basket for baby bottles will ensure that every part of the baby bottle is secure within the dishwasher and in the optimum position to get a thorough wash. Here, we go through some of the important features that guarantee you are buying a great basket.
a) Material
Health considerations are important, and you need to make sure you are getting the best material for your child so that they thrive rather than becoming ill.
Ensure that any items you buy for your baby are BPA-free and have no toxins that could potentially be harmful.
Also, be aware that most of the baskets you will find have to stay on the top-shelf of the dishwasher so that you avoid any problems with them.
b) Capacity
Just because the basket appears to be large doesn't necessarily mean it has a great ability to hold all the items relating to a baby bottle.
For example, some baskets will come with clear spaces and compartments for placing and setting the assorted bits and pieces, while others provide a more free choice of how you arrange things.
You should be able to see on the seller's page exactly how many of each type of item the basket can fit. Remember as well that there are different size bottles and feeding nipples. So a basket may only be able to take six large nipples but could possibly accommodate more than double the number of medium to small ones.
c) Stability
The stability of the basket is very important. While you may find baskets online that come in funky shapes and sizes, looking incredibly cool, they may not be the most practical.
Baskets that have a tendency to tip over during a wash are a terrible idea. You want a basket that will stay stable and upright because the standard position the basket sits in is the optimum one to wash everything within the basket.
If the basket tips over, then items such as the feeding nipples may not wash thoroughly.
This lack of thorough cleaning encourages bacteria growth and could lead to illness.
FAQ
Do I need a dishwasher basket for bottles?
The big risk you take when putting baby bottles and their assorted parts in the dishwasher is that you end up losing them.
There are so many small parts to all your baby items that, without a basket, these could end up dropping to the bottom of the dishwasher or even getting lost as you unload the dishwasher.
Equally, if any baby bottle parts or other baby items drop to the dishwasher's bottom rack, there is a chance they can melt. That's why most products say 'Top Rack Only'. A basket will prevent this from happening.
Is it OK to put baby bottles in a dishwasher?
First, check that the bottle is dishwasher safe. If you see the logo on the bottom of the bottle, then it will be fine on the top rack.
The main issue with baby bottles is ensuring they are fully clean with all the germs gone.
If the bottles have scratches or are damaged, then get rid of them. Scratches allow for the growth of harmful bacteria.
When using the dishwasher, make sure the bottles are on the top rack with a hot wash. After washing, if your dishwasher can, use a heated drying cycle to ensure as many germs as possible are killed.
How do you use a baby bottle dishwasher basket?
Each dishwasher basket is unique, but generally, you will be able to lift the basket's lid to place the small parts such as valves and caps into the basket. The same is true for spoons and pacifiers.
There will usually be space to press feeding nipples into as well.
Once everything is loaded, just close the basket up, and put it into the dishwasher.
At what age can you put baby bottles in the dishwasher?
There is some debate over the best time to start putting baby bottles in the dishwasher.
Some believe it is okay from 6 months, while others suggest waiting till 12 months.
Definitely do not use the dishwasher before six months unless your dishwasher has a sterilizing cycle. Most dishwasher cycles clean but do not sterilize, so there may be bacteria growth harmful to babies less than six months old.
Bottom Line
With so many baby dishwasher baskets to choose from, you're sure to find the best baby bottle dishwasher basket on this list.
Are you after a basket just for bottle pots, or do you want something universal for the dishwasher? Do you use bottles with large nipples or opt for something smaller? Does your dishwasher have the space to accommodate the basket you want?
Once you've worked everything out, you'll be able to buy a dishwasher basket for bottles that last a long time.